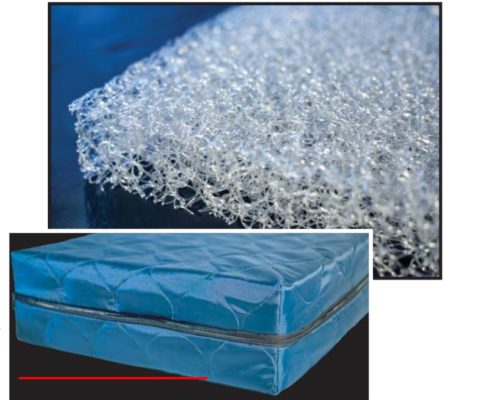 Features
Airstring Mattress – Used in dorm rooms, hospitals, institutional and correctional settings. High quality mattress
Made from LDPE nontoxic, giving off no toxic fumes, no off gasses and remains that way for the useful life of the product. Airstring provides the absolute lowest level of toxicity available in a sleep product today.
Can be recycled up to five additional times.
Product will last twice as long as any polyurethane foam.
100% breathable, means no heat buildup
100% washable mattress core. Eliminates dust mites, allergens, and bed bug infestations, keeping the mattress internally sanitary.
Airstring meets all fire retardant and antimicrobial requirements of the U.S. Government and can meet FR requirements of CFR 1633, CAL 129, and additional more stringent requirements.
Covered with a 210 denier nylon ticking that has a polyurethane coating that helps meet liquid resistance, fire retardant, and antimicrobial requirements.
Clear view outer shell ticking for security. The solid foam core is a highly modified fiber spring that will not egnite when subjected to open flame.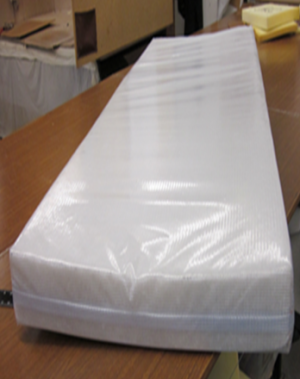 Features
Fiber Spring Mattress – Used in institutional and correctional settings. Great budget conscious mattress
Excellent cost saving alternative to foam and spring mattresses
Manufactured with post-industrial recycled raw materials
CA117 Compliant
Constructed with "glass clear" Clearsafe vinyl ticking reinforced with a heavy duty "rip stop" polyester scrim.
ClearSafe lets prison personnel easily detect forbidden items and/or weapons that may be hidden inside the mattress
ClearSafe is flame retardant, phthalate free, fluid-proof, bacteria resistant, anti-static and can be easily cleaned and sanitized.
Item # and Dimensions
DOCR-00460 29″ x 72″ x 4″
DOCR-00470 36″ x 75″ x 4″
DOCR-00480 28″ x 80″ x 4″
DOCR-00490 27″ x 74″ x 4″
DOCR-00495 29″ x 76″ x 4″
Dorm Mattress – Non-Bendable
Features
Antibacterial / Antistatic Wipe Down Fabric
1″ High Density Foam Insulator Pad
312 Dorm Spring
2 Sided Flip-able Construction
5 Year Warranty
Box Springs Available
Item # and Dimensions
Twin 19500  36″ x 80″ x 7″
Twin 19600  36″ x 75″ x 7″
Full 19710  54″ x 75″ x 7″
Full 19730  54″ x 80″ x 7″