RRI can help you design and modify your workspace to fit your personal needs to eliminate discomfort and risk of injury. The goal of office ergonomics is to design your office work station so that it fits you and allows for a comfortable working environment.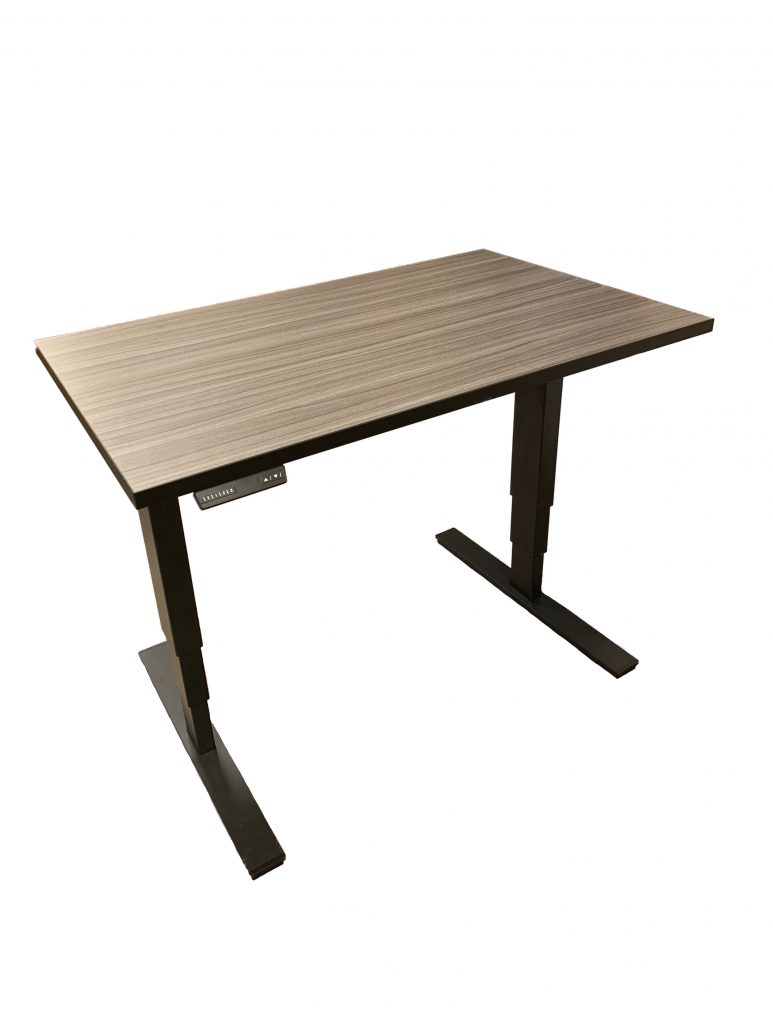 Toggle Height-Adjustable Tables
The Toggle gives you the ability to adjust your posture throughout the day to improve focus, productivity, comfort, and overall well-being. Toggle height-Adjustable tables enables simple transition from sitting to standing and back again, allowing you to reposition without leaving your workspace. The Toggle gives you full control over your position. Raise or lower the tabletop with a simple push of an electric switch. Optional casters allow you to move and rearrange the table with ease. Choose from a T-Leg design to enable dual-sided access for collaboration, or choose from a C-Leg design to accommodate storage and support ease of ingress and egress.
Height Range: 26″ to 52″
Frameset Style: T-Leg or C-Leg
Standard Electric Switch:

Two buttons to lower or raise the table

Travel Speed: 1.4″ per Second
Collision Detection:

Software based anti-collision function automatically stops table to prevent damage

Base Colors: Black, Silver, White
Accessories Available:

Deluxe Electric Switch – programmable with up to four different heights
Wire Trough – allows for an organized work space and accommodates the R8 Undermount Power Module and Vertical Cable Manager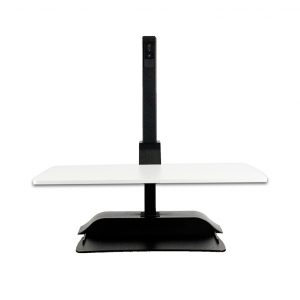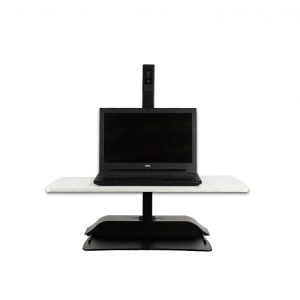 The Hermes desktop sit-to-stand unit is the perfect ergonomic solution for your workspace. The sleek and elegant design will coordinate with any office space.  The Hermes has a one-of-a-kind electric remote control to make height adjustments a breeze!
Control: Magnet Remote Control
Motor: Electric
Surface Height Range: 1.2″ to 18.3″
Surface Width: 27.6″
Surface Depth: 15.6″
Surface Weight Capacity: 44 lbs.
Speed: 1″ per second
Base Color: Black
Work Surface Color: Light Grey
Anti-Collision: Yes
Features: 2 Outlets, 2 USB Ports
Accessories Available: Single Monitor Bracket, Dual Monitor Bracket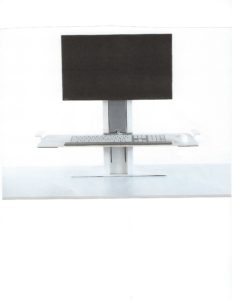 The QuickStand height-adjustable workstation raises the bar for ease of use and stability among sit/stand products. QuickStand seamlessly transforms any fixed-height desk into an active one, promoting collaboration and well-being in the workplace. With weightless operation and a plug-and-play cable management system, QuickStand neatly attaches to the back of any work surface, placing the screen and keyboard in an ergonomically correct position for the user.
Unit Height: 28"
Unit Width: 28"
Unit Depth: 29" (Small Platform) 36" (Large Platform)
Monitor Height Adjustment: 5"
Platform Height Adjustment: 18"
Max Monitor Width: 24"
Max Total Monitor(s) Weight: 25 lbs
Black and White Finishes Available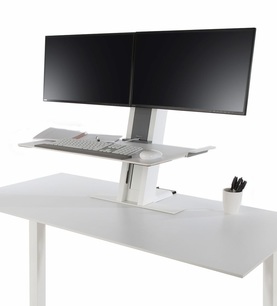 Sleeker, easier to use, and comprised of more sustainable materials than ever before; the QuickStand Eco is a vast improvement over the current generation of sit-to-stand surfaces. QuickStand Eco features simple setup, portability, and near effortless adjustability; transforming ordinary desktops into healthy, active workspaces. Available in laptop, single, or dual monitor figurations.
Unit Height: 28.1"
Unit Width: 28"
Unit Depth: 29.2"
Work Surface: 28″ W x 19″ D (Minimum Desk Required – 29″)
Total Height Range: 18.6″
Vertical Monitor Adjustment: 5″
Product Weight

Laptop – 38.5 lbs.
Single Monitor – 42.3 lbs.
Dual Monitor – 45 lbs.

Black and White Finishes Available
Finger touch dynamic height adjustment
Recommended for worksurfaces 24.0″–36.0″deep
13.0″ height adjustment range 7.0″–20.0″ (low/high)
22.5″ arm extension
3.0″ arm retraction
+90°/-25° tilt
±90° rotation
6.5 lbs.–17.6 lbs. weight capacity
VESA quick release
180° lock-out feature
Desk clamp and grommet mount included
Exceeds BIFMA x5.5 requirements
For monitors weighing between 6.5 – 17.6 lbs.
Silver, white, and black finishes available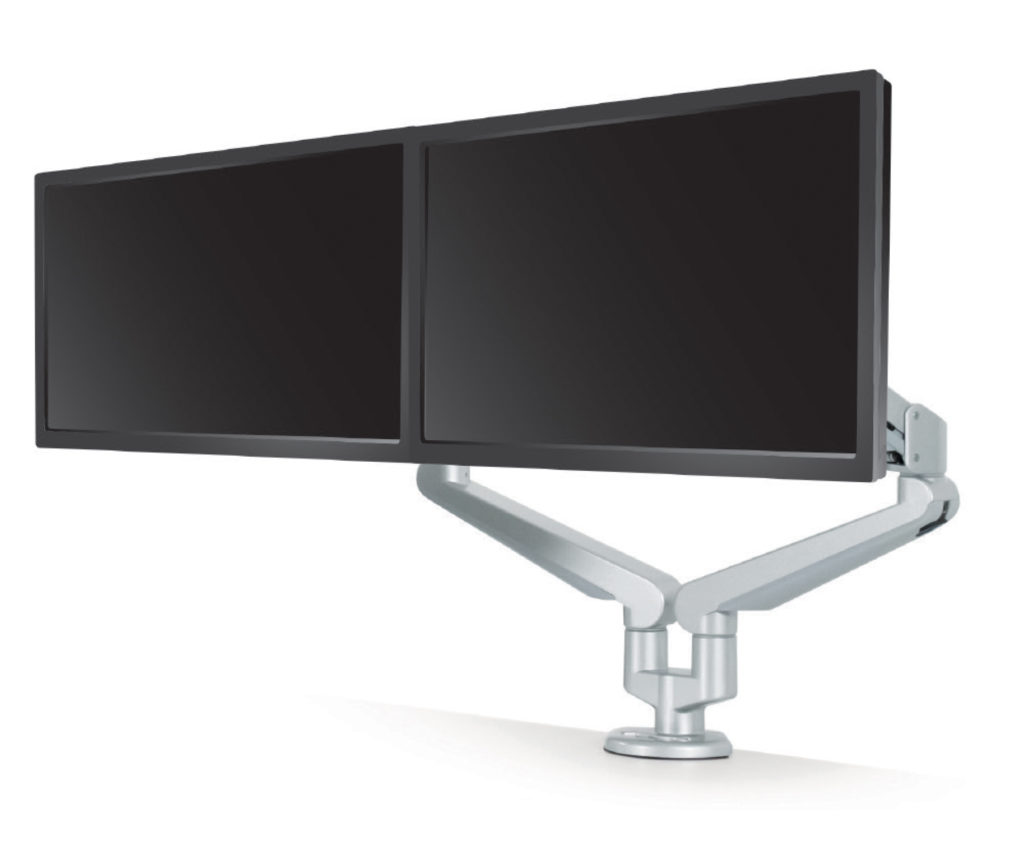 Finger touch dynamic height adjustment
Recommended for worksurfaces 24.0″–36.0″deep
13.0″ height adjustment range 7.0″–20.0″ (low/high)
22.5″ arm extension
3.0″ arm retraction
+90°/-25° tilt
±90° rotation
6.5 lbs.–17.6 lbs. weight capacity (per arm)
VESA quick release
180° lock-out feature
Desk clamp and grommet mount included
41.5″ max. monitor width (bezel measured left to right)
Exceeds BIFMA x5.5 requirements
For monitors weighing between 6.5 – 17.6 lbs.
Silver, white, and black finishes available